The Math Fairy Believes in Superheroes!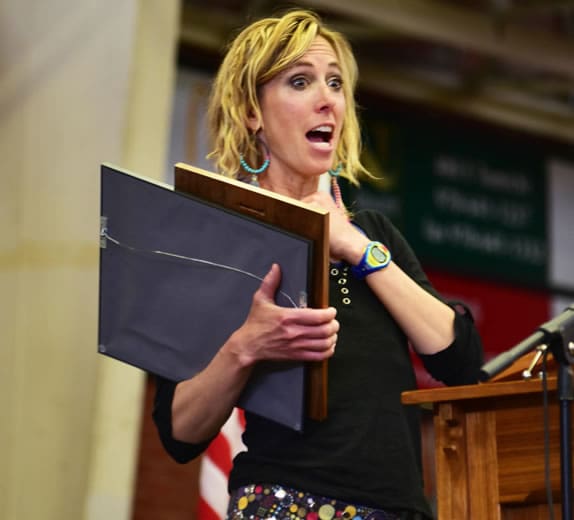 Math interventionist, Maren Eberly was awarded the 18th annual Dan Tredway Memorial Excellence in Teaching Award during the 2018 GHS Commencement ceremony on May 19th. The award guidelines call for a teacher who is "dedicated to students, committed to the community and who creates a classroom atmosphere which promotes an excitement about learning".
School Board member, LeeAnn Mick, presented the award after an introduction by Superintendent, Doug Tredway, whose parents began the fund at the Community Foundation of the Gunnison Valley.
In her remarks, LeeAnn noted that Maren is "dedicated, rising at 5am and working well into the night."  She has worked in all the Gunnison Schools and is now the Math Fairy at Gunnison Elementary. Maren believes in superheroes and brings a sense of delight into her classrooms with her attitude and her costumes.
Principal Jim Woytek commented, "Maren's lessons are creative, innovative, fun and never fail to draw her students in – the atmosphere makes it exciting to learn math."
When asked how she feels about being chosen by her peers for the award, Maren said, "I was so surprised! When I realized LeeAnn was talking about me, I teared up. I feel honored and humbled."
Maren's has wisdom for new math teachers. "Expect to be busy – it's a good busy. Remember, it's not just about the math; if you're having fun, so are the kids – and they're learning. It's all about making a difference. Watch for the "learning moments" – you're helping your students grow into kind, compassionate adults. She went on to say, "It feels good to go home each night and reflect on the special moments you had that day."
Named after WSCU professor Dan Tredway who was a pioneer in rural education, longtime Gunnison resident and an inspiration to educators and the community, the fund honoring teaching excellence each year is a component fund of the Community Foundation of the Gunnison Valley.
Maren joins previous recipients Mark High, Kaylonn Tredway, Ellie Ferguson, Leo Malloy, Alicia Belgiovane, John F.X. McCarthy, Mary Nordberg, Karen Alton, Ann Landwehr, Bob Howard, Emily Kowal, Jody Coleman, Erin Voukun, Jennifer Kennedy, Greg Smith, Stacey Mickelson and Kevin Mickelson.