It's Not How Much You Give, It's How Much You Care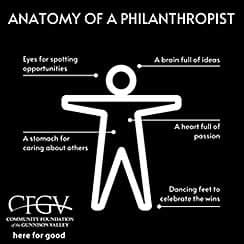 A philanthropist is "one who makes an active effort to promote human welfare." Often, philanthropists are seen as generous wealthy people. Let's reframe what philanthropy actually means:
Do you care about your community? Have you received help from your community and want to pay it forward? Do you have something extra to give – whether it's time, money, or an item someone may need more than you? If you answered yes to any of those questions, then you certainly have the ability to be a philanthropist. Communities coming together to give resources to positively benefit humanity is the heart of what philanthropy, and the spirit of community, are all about.
If you can be generous toward others, you can be a philanthropist. It's easy to think being "generous" means giving an excessive amount. But, generosity can simply be what's significant to you. Generosity has three meanings: "liberal in giving, marked by abundance or ample proportions, or characterized by a noble or kindly spirit."
Therefore, being warm-hearted and kind is definitely a form of demonstrating generosity to your community. It's not always about giving lots of money, lots of time, or lots of things. If you start with being kind to others, you're on your way to becoming a generous person. Then, if you ask yourself what you can give to improve your community, you're on your way to becoming a philanthropist.
At the Community Foundation of the Gunnison Valley, we believe anyone can be a philanthropist, displaying generosity to better our community. Making a significant gift differs from person to person, and that is absolutely okay! There is no numerical value associated with a financial contribution or volunteer hours that enables one to reach the status of philanthropist. Ultimately, if you're helping the community in a significant way to you, you're a philanthropist!
CFGV cannot make the impact it does without a community that cares. Thanks to the generosity of those passionate about making a difference, 2020 was the best financial year in CFGV's history. Many organizations and individuals believed in our mission, enabling CFGV to proactively respond to community needs amid a pandemic. Between Community Grants, COVID-19 recovery funding, scholarships and donor-advised contributions, CFGV's financial impact totaled $887,000 in funding to support local nonprofits and organizations donors are passionate about.
Important to note, gifts to CFGV varied in size: CFGV's 2020 fundraising efforts generated a variety revenue sources: ranging from a $0.07 check to a $65,000 grant. The point is that every penny of every dollar counts to make a positive impact within our community.  We celebrate every person who donated time or money to CFGV a philanthropist because they care about the community and are willing to give something to make the Gunnison Valley a better place.
If you want to positively impact our community by showing generosity, you're a philanthropist!  When many kind-hearted individuals come together to be philanthropy-minded, our community is an even better place. To all the philanthropists, even if you just realized you are one, thank you for being "Here for Good" in the Gunnison Valley! To those inspired about giving more to our community, CFGV.org, is a great place to start learning how to embark on your philanthropy journey!
"The greatness of a community is most accurately measured by the compassionate actions of its members." – Coretta Scott King
Written by Erica Rasmussen, CFGV Communications & Development Director