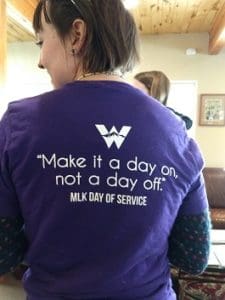 The Community Foundation of the Gunnison Valley (CFGV) is excited to announce the launch of GunnisonValleyVolunteers.com, the first and only Valley-wide website dedicated solely to volunteerism. This site matches people looking to donate their time with local organizations in need of volunteers in an easy-to-use platform.
GunnisonValleyVolunteers.com provides a one-stop shop to volunteers who are interested in getting involved in the community. By creating an account and indicating what type of organizations interest you – like animal shelters, arts and culture institutions, or athletics and recreation groups, for example – and choosing the types of work you're interested in – like clerical, physical labor, or advocacy, to name a few – the site automatically matches volunteers with organizations as they post their opportunities to the site. Creating an account is simple, and volunteers can quickly browse organizations and opportunities with the click of a button.
GunnisonValleyVolunteers.com also makes recruiting and managing opportunities and volunteers easy for nonprofits and community groups. Because the website is fully automated, organizations can cut down on time spent using outdated methods of signing up volunteers, coordinating shift schedules, and tracking volunteer time, and spend more time on making their events a success. With comprehensive reporting and robust communication tools, organizations will be able to use GunnisonValleyVolunteers.com for every part of the volunteer management process.
"With 42 local organizations and over four hundred users already registered, this website serves as a community hub for volunteering. Many users are Western students looking to get to know their community better. We've heard from visitors seeking volunteer opportunities during their stay, and several nonprofits are already using the quick reporting functions to pull reports for grant funders who require tracking. The more the site is used by organizations and individuals, the more valuable it will be to the entire community," says CFGV Executive Director Lauren Kugler.
Those interested in learning more about volunteering, or organizations who would like to register their volunteer opportunities, are encouraged to visit GunnisonValleyVolunteers.com and create an account. Trainings are available for organizations looking to utilize the website as a platform for their volunteer management by calling Alicia at 970-641-8837.