A Dynamic Culture of Giving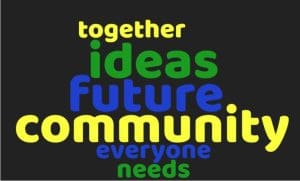 Seven years ago, I accepted a job with the Foundation largely because of my desire to work closely with as many people and organizations in the Gunnison Valley as possible. That still holds
true. It's an honor to take the reigns as the Community Foundation's next Executive Director, following Pam Montgomery's 17 years at the helm.
One of the things I love most about our "industry" is the widely-accepted mantra, "If you know one community foundation, you know one community foundation." By its very nature, a community foundation is designed to help meet the needs of the unique community it
serves. No two are the same.
While it's our programs, one-on-one grant application feedback, and local and regional workshops catering to the capacity-building needs of our rural community organizations that are at the heart of our work with local nonprofits, CFGV is arguably best known for Community Grants.
Normally, we would have hosted an open celebration honoring all of this year's Community Grants recipients. That celebration is usually full of handshakes, hugs and lots of chatting before hearing from the grantees.
Since gathering such a large group was out of the question (not to mention, the hugs and handshakes), we turned to a new format for honoring the hard work of these nonprofits. Through short video clips, stories from 42 organizations will be shared via email, social media and at www.cfgv.org in the coming months. In two-to-three minute snippets, you'll have the chance to learn more about the wonderful work of so many organizations in the Gunnison Valley, from the comfort of your home. If you would like to make sure these Gunnison Valley nonprofit highlight reels land in your inbox, please reach out to erica@cfgv.org.
As CFGV strives to build on the many successes achieved during Pam's tenure as Executive Director, I hope you'll join us in working toward the Foundation's vision for a dynamic culture of giving in which the full range of human needs is addressed by the community it serves.
While 2020 has certainly delivered surprises, we have a unique opportunity to critique "business as usual" in light of global disruption from COVID-19. I look forward to thoughtful conversations with you – the community – as CFGV envisions our next 20 years.
The success of your local community foundation depends on you! Please share your thoughts on what we're doing well. Don't hesitate to provide candid feedback about things we're missing or could improve upon. Reach out if you simply want to learn more about our work. As CFGV's strategic plan is updated in
the coming months, your input is critical. Thanks to you – donors, volunteers, community members – the Community Foundation is "Here for Good," today, tomorrow, and forever.
​