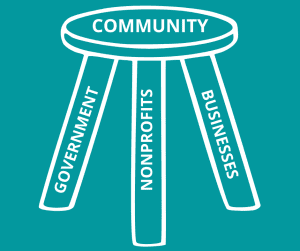 Philanthropy, continued: "Goodwill to fellow members of the human race; active efforts to promote human welfare." "An act or gift made for humanitarian purposes."
The acts and gifts made this year have been legion. But here I want to acknowledge every one of our 100+ nonprofits. If we incorrectly equate philanthropy with "cash donations," as some think of it, then nonprofits are recipients. But if we correctly see philanthropy as "an act or gift made for humanitarian purposes," we realize that we are recipients of their philanthropy.
Every one of them. The Food Pantry, Mountain Roots and the Hispanic Affairs Project were front-and-center in coordinating their work with government, farmers markets, groceries and restaurants to ensure that no child, no senior, no struggling family, no immigrant should be hungry.
RMBL donated freezers to the County to store vaccine, accelerating our vaccination process.
The animal welfare organizations both found companions for lonely people and also cared for the animals that people suddenly facing poverty or COVID could not sustain.
The athletics and outdoor-oriented organizations stepped up to keep the trails safe, clean and open. CB Nordic showed us that trails are necessary havens – and the CB Avalanche Center let us know when using the back country was not a good idea! Gunnison Nordic created new opportunities for seniors and immigrants to ski. West Elk Soccer and West Elk Hockey offered mental health respite to so many.
How much more might kids have suffered had Mentors not found creative ways for partners to connect? Or if the preschools hadn't found ways to stay open? How much more isolated would immigrants have been had the Hispanic Affairs Project not created a weekly phone tree?
The health and social service groups were extraordinary: Living Journeys brought meals to families impacted by cancer, now compounded by isolation. Project Hope found transitional housing for more victims. The Lighthouse Pregnancy Resource Center found newborn supplies for families suddenly unable to purchase them. CB State of Mind paid for counseling sessions for uninsured people in terrible stress.
KBUT! From their weekly public information panels on health and safety, to their great work on that crazy day when all other communications went out , including 9-1-1: we depended on them.
And oh, to the arts and culture groups, thanks for the learning and joy which we so desperately needed. To the CB Museum for their history presentations – one of which literally had people polka dancing from coast to coast. To the Mountain Theater's goofy zoom improvs. To the Music Festival that digitally transported us with glorious music, or the CB Film Festival that worked with CB State of Mind to present a film/discussion about suicide. To the Center for the Arts which provided a community space to gather and for small performances to happen – even though the Center itself was seriously struggling.
Or the Gunnison Arts Center, which, with the Center for Mental Health, designed workshops to help people address stress and fear. Free to front line workers, or clients of Six Points, Project Hope or Mentors, they offered 54 sessions! Afterwards, the overwhelming majority of participants reported that they acquired tools to understand/express emotions safely, and felt that difficulties could be managed; half found a new, supportive community; nearly everyone reported how vital it was to experience joy. And to move ahead: "I fled for my life in a California wildfire a few years ago, and this summer's fires triggered me. I was finally able to…let go. It felt so good I cried."
It's said that nonprofits are the "third leg of the stool that is society," along with government and business. Recent editions of the newspapers beautifully highlighted the challenges – and responses – of our public officials and private businesses. Hats off to them.
But let us all, every one of us, also recognize our enormous debt to the vital third – and equal – leg of the stool, the sector that helped – and helps – every one of us eat, laugh, connect, think, recreate, learn, explore, find safety, find meaning, and dream. The sector that makes us human. Our nonprofits: the ultimate philanthropists.
Written by Maryo Gard Ewell