Shout it from the mountain tops – thank you to our educators!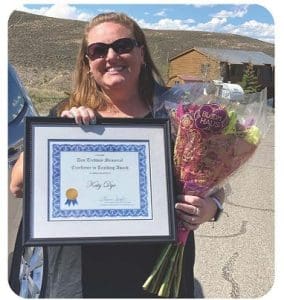 To be a teacher is to make the choice every single day to love, protect, and guide a group of young people as they learn to make sense of the world and their place within it.
To make this choice each day, and to continue to cross the threshold of a classroom with the weight of all of the responsibilities of an educator in 2022, takes more than just courage. Those who continue to show up to do this work understand the sacrifices, large and small, that are baked into their professional duties and reinforced by their depth of care for their students.
Young people today are growing up in one of the most difficult times in the country's history. They see the stress in the eyes of their parents and families, friends in the classroom, and in the mirror looking back at them. In order to continue to function and grow, they need a sense of normalcy, consistency, and safety. And they need someone to remind them that they matter a great deal, just because of the human that they are.
If one were to stroll the hallways and peek into classrooms around Gunnison County, they would witness a spectrum of minor miracles being facilitated by our educators. Writing curricula and delivering lesson plans is itself a 40-hour per week job; that barely scratches the surface of what teachers give each day. They choreograph an elaborate dance around the classroom, differentiating their instruction based upon individual needs, assessing body language and facial expressions, uplifting each student's voice, and redirecting attention from inevitable distractions.
As kids grow up, their connections with teachers naturally evolve. For teachers, everything starts and ends with relationships. The path to mutual trust and understanding looks markedly different for each student, but it is up to the teacher to map out the route to get there. It takes a great deal of energy and time, but it is worth it because the end result is the student benefitting from the love and care directed toward them from a trusted guide.
In order for educators to continue showing up for our students in the classroom, they must will themselves through a host of outside influences that most other professionals can't fully understand. These factors help illuminate why there is a teacher shortage nationwide. But they also underpin the reasons why the teachers who have continued in the profession need to be celebrated, supported, and compensated even more.
The Community Foundation of the Gunnison Valley continues to celebrate and support our local educators in a variety of ways. Each year, in partnership with the school district, we provide the Dan Tredway Memorial Excellence in Teaching Award. This year's award went to Katy Dye, a Special Education Teacher at Gunnison Elementary School. Nominated by her peers, Katy has built trust and created space for understanding and individual learning for hundreds of students over the years. Additionally, the Gunnison Valley Education Foundation, a component fund of CFGV, awards a number of Teacher Innovation Grants to district educators each year. This year, almost $12,000 was awarded to nine different teacher-led initiatives in the District.
Achilles Johnson, current Gunnison High School student and Executive Director of the Gunnison Project, recently released a statement in response to the tragedy in Uvalde, TX. He shared a call to action, which can help serve as a beacon of direction as we prepare for a new school year in the fall: "We must look to the future with hope, with an unshakable belief that we can write a safe and more prosperous destiny for ourselves. We must be thorough when we make decisions that affect others. We must listen to each other, regardless of our viewpoint. We must pursue the future with an open mind and an open heart."
As we move into the summer, let us not forget to thank the heroes in our community who will once again welcome a new batch of students in the fall.
To all teachers, administrators and staff members of the Gunnison Watershed School District who continue to keep showing up for our students, we say, "thank you!"
To learn more:
22 years of Excellence in Teaching Awards: https://cfgv.org/excellence-in-teaching/
Gunnison Valley Education Foundation: https://gunnisonvalleyeducationfoundation.org
The Gunnison Project: https://new.thegunnisonproject.org/