Defensive Driving Makes Us All Safer on the Roads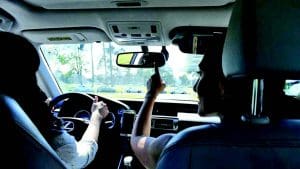 Gunnison native Amber Flynn is a former recipient of a CFGV Defensive Driving Scholarship, and has reflected on how the experience helped provide her with the necessary tools to protect herself behind the wheel during an accident. "Years down the road I'm thankful for the ways that the defensive driving courses have helped me. It applies in so many scenarios, I use it all the time. Those skills are applicable."
It wasn't necessarily Amber's idea to apply for the scholarship in the first place, but she knows how beneficial it was for her. "For me, it's one of those things my mom asked me to do. Her sister died in a car accident at a young age. It was a really big thing for me to have all the skills I needed to drive safely and defend myself."
Amber's scholarship application was accepted, and she was able to attend Teen Skills Training Camp through MasterDrive of Colorado Springs. It was there she first learned about car control in various conditions and situations. "I thought it would be beneficial for me to learn how to drive in the mountains better and be more aware. Extra skills never hurt to protect you in the event of an accident."
Students who attend the course receive individual lifesaving skills training in their own vehicle with a professional instructor. They learn crash avoidance and precision maneuvering, controlling the vehicle's changing weight dynamics, braking, backing, skid control and recovery.
Less than two years after participating in the MasterDrive course, Amber was driving to town after a day on Blue Mesa with her younger sisters. As she drove through the canyon back to Gunnison, a vehicle being driven by a drunk driver came around the curve into her lane. Amber made a quick maneuver into the adjacent lane just in time. "He hit my back tire. It swung me back across the highway and into the shoulder of the road."
"My little sister was in the back of the car. Both of us were okay – we had a couple chiropractor appointments. Airbags went off. It was traumatic. But I remember thinking that had I not taken the defensive driving course, I could have flipped my car."
Facing a drunk driver head-on could've been fatal. But, thanks to Amber's defensive driving instruction, she kept herself and her sister safe. "It honestly saved our lives. We were in a head-on collision and we turned it into no injuries. We were both able to walk away from the accident and recover quickly."
Amber would encourage others who are new to the road to pursue the opportunity to work on their defensive driving skills. "I would say if you have the opportunity to take the course, definitely apply for the scholarship – go for it."
You can learn more about the Defensive Driving Scholarship, as well as the rest of CFGV's scholarship opportunities, at cfgv.org/scholarships-awards.