Community Housing: A complicated problem requiring innovative solutions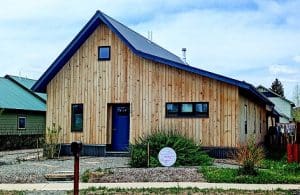 Workforce housing. Affordable housing. Safe housing. Reliable housing. The specific challenges around local housing can be different for everyone. While progress is being made up and down the Valley, the problem is complex and calls for innovation, creativity, and collaboration. CFGV staff and board conversations with leaders, partners, and community members around the Valley confirmed that it would be helpful to have a resource and tool for shared understanding and next steps.
Community Housing in the Gunnison Valley is just that – a community resource. A handful of CFGV donors who share concern about our housing crisis stepped forward to underwrite the cost, and partners up and down the Valley worked with CFGV, Williford LLC and Urbanity Advisors to address:
Why we're struggling
Efforts to preserve naturally-occurring affordable housing
Current and upcoming workforce housing projects
Local funding streams
Ways we can all be part of the solution
Through public/private partnership, more than 700 homes and apartments have been built for local households in the Gunnison Valley since the 1980s. Over the past decade, the momentum around housing solutions has increased, with jurisdictions joining the effort and increasing rates of production.
Based on the 2021 Gunnison Valley Housing Market Update, our community needs about 960 homes (mix of single-family and multi-family for rental and ownership) over the next five years to catch up and keep up with the growth of jobs in the area. A variety of price points are needed, with the top of the range being about $3,000 per home for rent, and about $550,000 for sale.
Looking back five years, an average of 48 deed-restricted homes for community members have been produced each year. Keeping this rate of production will be challenging as construction costs and interest rates are rising, and suitable land is scarcer. Across the Valley (and the nation) the cost to build is exceeding what local workers can afford even with what was recently considered a very "livable" income.
With the known gap of about 960 homes, building half that number – 480 homes – over the next five years will require adequate land and approximately $40 million to $60 million in local project gap funding. Even if our valley just keeps up with the current rate of building nearly 50 deed-restricted homes per year, about $5 million to $7 million in local funding will be needed each year. Current public funding available for building workforce housing comes in just under $2.5 million per year. It includes the Town of Mt. Crested Butte's inclusionary zoning fee, mitigation fees and lodging tax; the Town of Crested Butte's vacation rentals excise tax and Resident Occupied Affordable Housing (ROAH) policy fee; and Gunnison County's impact fee on new development. The Towns, City of Gunnison, and County work to boost this gap funding by securing grant dollars. Local nonprofit organizations like Habitat for Humanity and the Valley Housing Fund help address the funding gap by leveraging charitable contributions and volunteer and in-kind efforts.
Building workforce housing is complex, and it's a critical component to a thriving Gunnison Valley community. Take a moment to think about your neighbors, your favorite restaurant's employees, your child's teacher, the person who fixed your heat last winter, the nurse who took care of a loved one at the hospital, and so many others who are vital to this community's functioning. No single solution is all-powerful, no jurisdiction, organization or individual will solve this problem in isolation, and the funding challenges are no small hurdle. Consider ways you can support current housing efforts – attend public meetings to lend an informed voice and ask questions, give time and/or money, foster and encourage conversations that lead to creative solutions.
The online version of Community Housing in the Gunnison Valley is user-friendly and can be found by scanning the code below or visiting our homepage at cfgv.org. If you'd like a hard copy, please feel free to call 970-641-8837 or email info@cfgv.org to request one.