A Collaborative Foundation for a Greener Future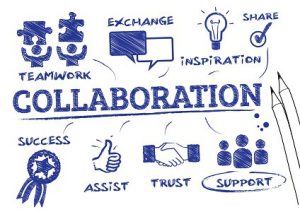 Construction in the Gunnison Valley has been as consistent as the sunshine, progressing as quickly as contractors can manage to get building materials to their job sites. Coupled with the Valley's need to meaningfully increase the number of homes for local workforce at all income levels in the coming years, we expect the industry to stay busy for the foreseeable future.
Understanding the scope and environmental impact of this much ongoing construction, two local nonprofit organizations came together to discuss the ways in which they could best help support waste mitigation efforts for all builders. Julie Robinson, Executive Director of Habitat for Humanity Gunnison Valley (Habitat), and MJ Pickett, Executive Director of Coldharbour Institute (Coldharbour), shared a vision for providing the community a resource that would increase sustainability and affordability of building projects in the future. "Julie and I met at Coldharbour in late 2020 and started the conversation about how we could work together to address this issue and encourage reuse of materials," Pickett said.
We awarded Coldharbour and Habitat a collaborative grant as part of our spring 2021 Community Grants Cycle. Community Foundation of the Gunnison Valley collaborative grants were new in 2021, added in recognition that some of the most effective efforts in the last decade in the Gunnison Valley involved multiple organizations working collaboratively to address community challenges.
Habitat and Coldharbour used the grant funds to hire a project manager, Sydney Murphy, to conduct a feasibility study on establishing a local Building Material Reuse Center. The study largely focused on the viability of a Center and the steps necessary to reduce the amount of construction materials that end up in the local landfill. These findings further supplement an initial study done by the Gunnison County Office of Resource Efficiency in 2003 that indicated a need for this service in the community nearly 20 years ago.
"We are very excited about the opportunity to support this effort. We would like to see construction materials being reused and kept out of the landfill," Robinson said.
Beyond reducing construction-related waste ending up in the landfill, a Building Material Reuse Center would provide an outlet for builders to donate their surplus high-quality construction materials. These materials would go through a vetting process considering safety and reusability, and then be available for community members to purchase at a reduced cost.
"Everyone that I spoke to in the community was so excited about it! They all asked how they could get involved and help out," Murphy said.
The study was wide-ranging and addressed multiple factors, such as building codes in the area and the ways in which they may help shape the approach moving forward. The Town of Crested Butte's Municipal Building Code was amended in 2018 with an article that now requires construction personnel and developers to provide a deconstruction and recycle plan for both new construction and demolition projects. A Building Material Reuse Center would provide an opportunity for the industry to more conveniently adhere to these new guidelines.
While having the surplus building materials remain in the Valley and out of the landfill would be a boost to workers in the field, Murphy found reason to suggest that many other community members would stand to benefit just as much. There's an abundance of excess materials available for reuse, and for every new home being built in the County, there are more that are undergoing smaller renovations and upgrades, often at the hands of the owners. The do-it-yourselfers, local handy people, and remodelers would be able to find some materials for their own projects at a much lower cost, without having to travel out-of-county or have them delivered from elsewhere, further reducing the environmental impact of our local construction business.
The positive impacts a Building Material Reuse Center would have on the community are clear, and the feasibility study provides the runway for Coldharbour and Habitat for Humanity Gunnison Valley to outline the next steps in their plan to execute this project. Their collaboration has opened the door to ensuring a more sustainable and affordable future for the construction industry in the Valley. Even more possibilities may arise moving forward to expand their impact, like employing a fleet of rental trucks and trailers to store and haul excess materials, or partnering with Sustainable Crested Butte to amplify services across the Valley.    
CFGV administers a Community Grants program for local nonprofits each year. Organizations can apply both individually or in collaboration with others for up to $7000 in funding. This year's application is open until May 15th – more information can be found at www.cfgv.org/grants/. Mark your calendars for a community celebration and grant award presentation on July 13th at the Center for the Arts in Crested Butte!