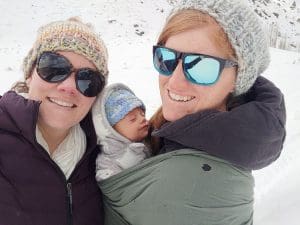 Our CFGV team is excited to be adding a new member in May. Jessica Wurtz recently started as our Director of Philanthropy. This new position on our team will deepen our role in the community as a partner in philanthropy and broaden our work connecting generous people with the many critical and enriching organizations, projects, and initiatives underway in the Gunnison Valley.
Many of you know Jessica, or of her, from her most recent role leading Project Hope. For those of you who want to get to know her a little better, we did a little question and answer with her last week.
What do you love most about the Gunnison Valley?
I love that there is such a strong sense of community identity here. During the nearly six years I've lived here I have really grown to appreciate the pride folks here have in their community, in their heritage and history, and in their surrounding environment.
What local nonprofits have you worked with? In what role?
I worked for Project Hope of Gunnison Valley for the last 5 1/2 years prior to joining CFGV. I was hired as their outreach coordinator, became assistant director after about a year, then executive director 2 years after that.
Why were you excited to join the CFGV team?
I was excited to join CFGV because after having worked at Project Hope, I came to be familiar with their work – Community Grants, their support of nonprofits (such as the STEP Program), and their leadership in the community. I quickly grew to respect their integrity and expertise and their role as an impact multiplier and connection maker. I think the Foundation is a tremendous resource for the community and I am excited to play a part in the work CFGV and all our supporters and volunteers do to make our valley stronger, happier, and healthier for all who live, work, and play here.
Tell us a little bit about your life outside work (family, hobbies, pets, etc.).
Like most residents of the valley, I enjoy a variety of outdoor activities – hiking, camping, getting out on Blue Mesa to paddleboard, boat, and waterski; but also love to relax with a good book in a comfy chair with some tea. I spend my time outside of work with my wife Lisa, new baby boy Mateo, and our dog Pepper. In addition, my parents and my sister and her family have also relocated to the valley from Colorado Springs where I grew up, so I am fortunate to be able to spend time with them as well.
We couldn't be happier to have Jessica joining our team and look forward to all the good she will add to our community in her new role. Make sure you mark your calendars for our summer events, Here for Good on July 12 and Asleep at the Wheel on July 29. These events will give you the chance to meet Jessica in person and learn a little bit more about how she can support you as a partner with your philanthropic goals for our community.