Maryo Gard Ewell: Catalyst and Mentor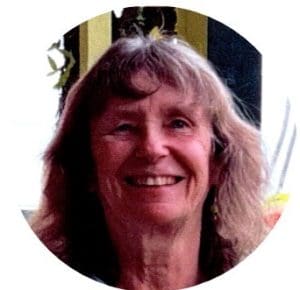 Maryo's title of "Director of Community Impact" is a perfect way to describe what she does for CFGV. In her time on the board and then on staff at CFGV she has started, developed, and/or participated in numerous programs (STEP, Resiliency Project, Gunnison County Community Health Coalition, etc.) that have had tremendous community impact, not to mention the informal mentoring and inspiration she has provided for so many members of our nonprofit community. Maryo's talents and experience in that role have been foundational to CFGV's program delivery and community involvement, and rest assured, Maryo's community impact is far from over.
One thing that gives us such confidence is that Maryo's community impact has never been limited to her role with CFGV. For example, since the early 2000s, Maryo has taught a class on grant writing through Western Colorado University's Center for Learning and Innovation. We're not sure exactly how many people have taken that class, but we estimate it is somewhere between 150 and 200.
To give you a glimpse at the tremendous impact of that class, we share the stories of two individuals, one who took the very first class and one who took the most recent one. Sonja and Coco shared their experiences as two of the 150+ people Maryo supplied with the toolkit they needed to turn their passions into resources in pursuit of community benefit.
Sonja Chavez: Water Resource Specialist
Sonja Chavez, now the general manager of the Upper Gunnison River Water Conservancy District (UGRWCD), took Maryo's grant writing class the first year it was offered in either 2004 or 2005. At the time it was co-taught by Maryo and Colleen Hannon. Sonja had completed her master's degree in Limnology (study of freshwater systems) and moved to Gunnison with her newborn in tow. She wanted to keep her skills sharp and her foot in her chosen field and saw the opportunity to learn a valuable skill in Maryo's grant writing class that she could use while being a stay-at-home mom. The culminating experience of the class is a practice grant application and Sonja took a novel approach. Rather than writing out a lengthy description of the relationship between selenium and fish, Sonja drew a picture to help the "grant reviewers" understand. Maryo still uses Sonja's illustration as an example for her students over 15 years later.
Sonja built upon her education and the foundation of skills she learned in Maryo's class and became a seasoned grant writer for entities looking to implement natural resource projects. Since taking Maryo's class Sonja calculates that she has secured over $43 Million in grant funding to support regional water improvement projects including on and off-farm irrigation efficiency, water quality, stream and habitat restoration, hydroelectric generation, and more. The impact of that $43 Million in funding extends far beyond the significant effect on regional water resources. Sonja pointed out that those grant dollars serve as an economic stimulus for local communities by creating solid jobs in the construction field or by supporting local material suppliers, as an example.  She also always incorporates funding for public outreach and education in her grant proposals. She clearly remembers Maryo talking about how important it is to get to know your granting entity/funder and to be creative in building strategic partnerships with stakeholders (local, state, or federal). That advice has served her well.
Sonja is proud to say that she has taken a page out of Maryo's book and is teaching her staff members at UGRWCD the same skills she learned in Maryo's grant writing class nearly 20 years ago. Last year alone, UGRWCD managed $1.4 Million in grant funding.
Coco Stevens: Next Generation of Grant Writers
Coco Stevens is another one of Maryo's grant writing students. Coco is a current Western student studying Exercise and Sports Science who is also a member of the Western Mountain Rescue Team. Two years ago, she became the development coordinator for the group and was tasked with writing the organization's application for CFGV's Community Grants program. Coco had never written a grant application before, and through this process became acquainted with Maryo.
Every summer, Maryo offers one-on-one feedback sessions to every organization who submitted a grant application after the review committee makes decisions on grants. Coco shared, "the number one thing Maryo has done to impact me is give me feedback on that first grant… when Maryo gave me the feedback it was so specific and actionable I knew exactly what to improve on." One year later, Coco signed up for the grant writing class taught by Maryo, where she learned about refining her organization's approach to grants as well as the nuts and bolts of writing an effective application. As Coco charts out her career path, Maryo is a huge reason she is considering working in nonprofits in the future.
Legacy of Good
From Sonja to Coco, and all her students in between, Maryo has empowered so many local leaders to pursue funding from within and outside the Gunnison Valley through grants. Even as she steps back from her role as Director of Community Impact, her legacy will continue as her former students improve our community, one grant at a time.