Gunnison Cultural Connection Hosts Second Annual Welcoming Week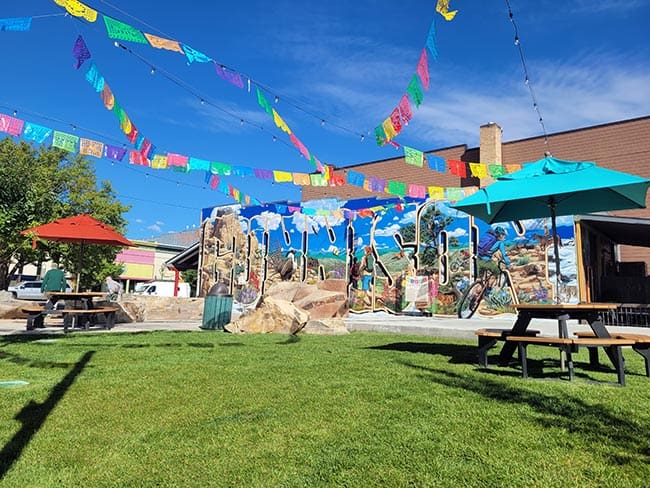 In 2022, Welcoming America selected the City of Gunnison as one of only 10 cities in the country to be part of their Rural Welcoming Initiative. In September of that year, Gunnison hosted their inaugural Welcoming Week to great acclaim. The Rural Welcoming Initiative "site team" included members from the city, the county, Hispanic Affairs Project, Inmigrantes Unidos, and CFGV.
After a successful first year, the site team that organized the first Welcoming Week started planning for the second annual event. Adopting the new name "Gunnison Cultural Connection (GCC)," the team organized the events around their mission, "building cultural connections that increase a sense of belonging for everyone."
The goal of Welcoming week is for residents of all cultures to feel welcome, celebrated, seen, and recognized in our diverse community. Each day was organized around a theme including civic engagement, connected communities, economic development, education, equitable access, government and community leadership, and safe communities, and packed to the brim with community-building activities.
The kick-off night, September 8, featured a film showing of "From Here," a film that illustrates the lives of 4 immigrants living in New York City and Berlin. Ricardo Esqueda, the city of Gunnison's community outreach liaison and one of the leaders of the GCC, said of the film, "This was a great way to kick off our week to start a dialogue of how we compare as a smaller, rural community, in comparison to a bigger city that sees a greater influx of immigrants in their community."
Ricardo saw growth in participation in most of the events compared to last year. A few events that particularly stood out to him this year included a joint partnership with the Chamber of Commerce, the Resiliency Project, and Western Colorado University that brought students and families together during the education day as well as a new event on the equitable access day featuring the Gunnison Valley Regional Housing Authority's GV-Heat program (for info on how GV-HEAT helps local residents reduce energy costs and improves the comfort of their homes, check out their website).
We asked Ricardo which day was his favorite during Welcoming Week in 2023 and he had this to share:
"I think that the Hispanic Heritage Celebration at the end of the week was my favorite. To see our community organizations come together in solidarity with our efforts to make this community one where "We All Belong" is really special. To see community members proudly wearing their country flags from Colombia, Guatemala, Mexico, among others, is a great sign that this community is able to create a safe space where others feel comfortable celebrating their different cultures and customs. Not only this, but people have the opportunity to share their culture through food and music! We had some amazing local food vendors, with options from El Salvador, Colombia, and Mexico, and all our performers were local, including our wonderful LULAC Gunnison High School members that performed a dance during the event. I hope that this event continues to grow and celebrate other cultures during our Diversity Walk and that we expand with performers and entertainment!"
After two successful welcoming weeks, the GCC is now working on developing additional, year-round programming. They hope to build on the work done over the last few decades by Hispanic Affairs Project, Inmigrantes Unidos, Multicultural Resource Services of Gunnison County, and others. Over the next year, GCC hopes to hold frequent Homebuyer Education Courses and Civics Trainings with our Law Enforcement Agencies and continue to expand programming from there.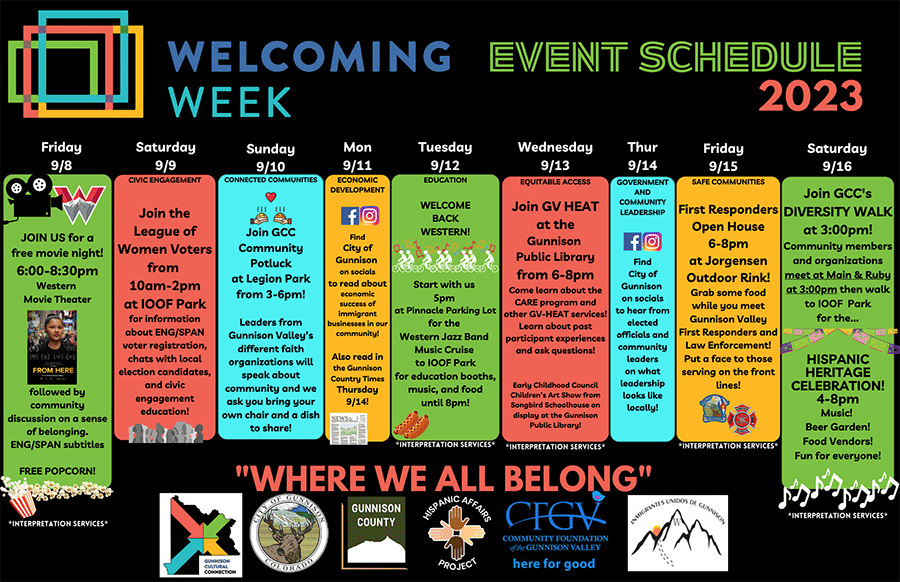 The GCC is committed to collaboration every step of the way. Ricardo noted that other community efforts, like the Resiliency Project, the Community Health Coalition, and the One Valley Leadership Council, already contribute to a sense of welcoming and belonging in our community. "It has been a joy to work with the Resiliency Project to organize Music Cruises and diversify the music we have shared out in our community, be a part of the Health Coalition to improve access to resources and advocate for needs of our minority community members, and to also advocate for greater change in leadership engagement with all members of our community to move the Welcoming work along." He called out the work of each of these groups in creating a space where everyone can prosper and succeed as being the thing that will help the Gunnison Cultural Connection achieve their purpose.
Keep your eyes open for the third annual Welcoming Week in September 2024. In the meantime, the best way to keep up to date with the GCC is to follow their new Facebook page: Welcoming in Gunnison.