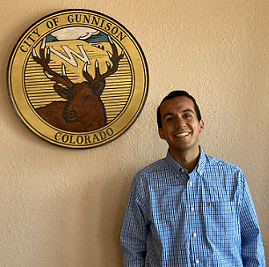 Although he is less than a year into his new role with the city of Gunnison, Ricardo Esqueda has been among those leading the valley's effort to realize a more welcoming, connected, and inclusive community for all.
Esqueda, Gunnison's Community Outreach Liaison, grew up in Hollister, Calif. and came to Gunnison to attend Western Colorado University, where he ran track and cross country. After graduating in 2020, he volunteered his time by offering translation services around the community, including at parent-teacher conferences. He officially started in his position with the City in May of 2021, and his role is now full-time.
It's clear that Ricardo has been intentional about supporting initiatives and organizing events that will benefit all community members, and that can be accessible in both English and Spanish. He has taken an active role in assisting with the community's most pressing issues, including the future of Country Meadows. To Ricardo, it is important to, "let people know that they can count on that support from the City of Gunnison to help navigate through any obstacles… I think people value that reassurance."
Ricardo, alongside partners like Gunnison's Community Development department, has been working to reduce those obstacles and provide resources to anyone interested. They held a Building Permit Night, at which both English and Spanish speaking community members could engage in learning from city leaders about building permits, mobile home building permits, and remodels.
In addition, Ricardo has helped to organize and interpret events with both the Gunnison Police Department and the Fire Station, where people could gather to interact with and ask questions of their local law enforcement and first responders. At events like these, a warm smile, a kind word, and translation services are just some of the things that Ricardo offers to anyone in attendance.
"Especially if English is not one's first language, it can be difficult to learn about different resources available," Ricardo said. "I value being able to help people connect with organizations and resources that may be helpful to them."
His talents were on full display at Gunnison's Migrants Day Celebration in December, as dozens gathered at Fred Field Center for a celebration and proclamation from Gunnison Mayor Diego Plata. The event, organized by the Hispanic Affairs Project (HAP), brought together community members to recognize and celebrate the impact that immigrants have made in the Gunnison Valley. Local nonprofit organizations were invited to join, and representatives from the Gunnison Country Food Pantry, CB Nordic, the League of Women Voters, and the Community Foundation of the Gunnison Valley were all in attendance.
Throughout the night, Ricardo stood alongside each new speaker, providing real-time translations from English to Spanish, while being mindful to convey the emotion and intent of the words as fully as possible. Afterward, he grabbed a plate of food to enjoy with those in attendance, and continued to brainstorm future opportunities to increase community and inclusiveness for all.
It is efforts like Ricardo's that help demonstrate the power of a community that caters to all its citizens. As we continue to see rapid growth in the valley, there is a unique opportunity to illustrate what makes our community so impactful. Many move here because of recreational pursuits, job opportunities, family ties, or a different pace of life. Our surrounding natural abundance can entertain and motivate some folks, for a time. But, often, people stay in rural places when those places remind them that they are home. This notion of home looks and feels different for all of us, which is why we must continue to provide more intentional programs, partnerships, policies, and opportunities that engage all members of a diverse community.
For Ricardo, highlights of 2021 included, "seeing more and more people get motivated about being active participants in our community, and seeing that people genuinely feel included and welcomed more in this community."
As we launch into 2022, full to the brim with priorities for the future of the valley, we can all do more to be mindful of everyone's place in that future.
Written by Scott Krieger, Community Impact Coordinator