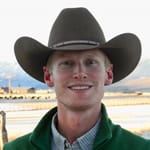 Rob Hoiting grew up in Kansas City and earned a degree in Journalism from Georgia State University. After working in Denver in the nonprofit development field for a number of years, Rob had the good fortune to marry into a long-time Gunnison ranching family. He's now a member of the 5th generation to be given the honor and privilege of stewarding the landscapes and livestock that comprise the Allen ranches.
Rob's experience with various nonprofits and foundations as a volunteer or employee includes Heartland Therapeutic Riding, The Johnson County Library, Mano Amiga, the Rock It Forward Fund, the Community Foundation of Kansas City, where his family has a donor-advised fund in his late mother's name, and the GLBT Community Center of Colorado. Currently, Rob also serves as a board member of High Country Conservation Advocates.
In his spare time, Rob enjoys hiking, skiing, tennis, and still riding horses just for the fun of it.